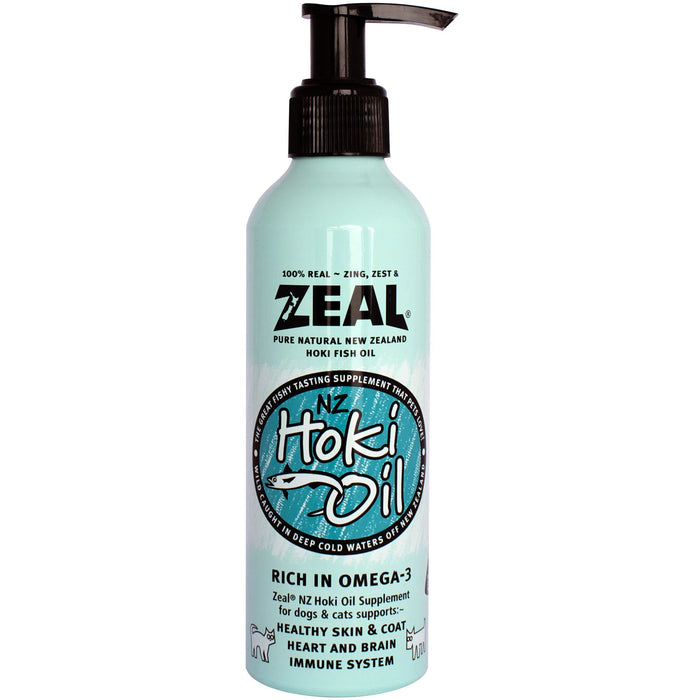 20% OFF: Zeal New Zealand Hoki Fish Oil
Save

$6.40
Save

$6.40
Original price
$32.00
-
Original price
$32.00
Available in 1 size only - 250ml
Breed Size: All Breeds
Life Stages: All Stages 
Made In: New Zealand
Zeal® Pure Natural New Zealand Hoki Fish Oil is one of the few fish oils in the world that is totally pure. It is extracted from Hoki fish, wild caught in deep, cold & pristine waters off the coast of the South Island of New Zealand, some of the cleanest oceans on the planet.
The New Zealand government has many regulations and a strict quota system in place that help to protect the environment, prevent pollution and ensure that the fish populations are sustainable. New Zealand Hoki are a sustainable resource as it is fished under a quota system that is government regulated and monitored.
ZEAL ® Hoki Oil is rich in Omega-3 fatty acids which promote the health and well-being of dogs & cats. Our pets can't make Omega 3 in their own bodies, it must be in the diet. 
Skin & coat health: The skin's barrier properties are improved and it helps in reducing dryness & itching. Supple and flexible skin is less prone to damage and will heal better if damaged. It helps to reduced shedding and supporting a healthy glossy coat.
Brain health: Cognitive function & trainability are improved by Omega 3. The DHA fatty acids in Omega 3 are needed to build new and replace damaged brain cells & without EPA fatty acids, the brain does not function properly. Omega 3 is also essential for brain development in kittens & puppies.
Heart Health: Omega-3 help to maintain heart health by improving blood flow, and heart health in general.
Eye health: Research shows that two omega-3 fatty acids, (DHA) and (EPA) are important for visual development and retinal function. DHA is found in the highest concentration in the retina of the eye.
Joint Support: The EPA in Omega 3 can help towards reducing inflammation, thus improving fluidity of the joints. It turn, this may help towards easing joint pain, reducing stiffness and increasing mobility as a result of improved joint health.
Kidney Disease: In pets with kidney problems, fish oil may lower elevated blood pressure, decrease undesired protein loss in urine, and reduce the production of proinflammatory substances that aggravate kidneys.
Visit Zeal Website to know more about Zeal New Zealand Hoki Fish Oil