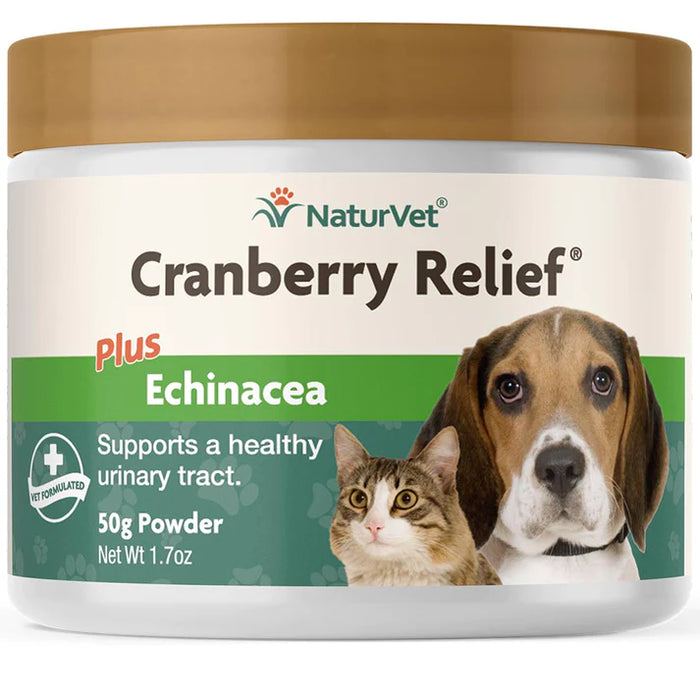 20% OFF: NaturVet Cranberry Relief Plus Echinacea Powder For Dogs
Sold out
Original price
$46.00
-
Original price
$46.00
Available in 1 size only - 50g
Breed Size:
 All Breeds
Life Stages:
All Stages
Special Diet:
 Urinary Care, Overall Care
Made In: United States
For use in dogs and cats over the age of six weeks. Recommended to help maintain and support a healthy urinary tract.
Plus echinacea to provide essential immune support to help maintain overall health.
Cautions:
Safe use in pregnant animals or animals intended for breeding has not been proven. Potential interactions with CYP1A2 & CYP3A drugs. If animal's condition worsens or does not improve, stop product administration and consult your veterinarian.
Warnings:
For animal use only. Keep out of the reach of children and animals. In case of accidental overdose, contact a health professional immediately. This is a natural product with no colors added, some variations in color may occur from batch to batch.
Active Ingredients per Enclosed 1cc Scoop*:
Cranberry Extract 210 mg
Echinacea Purpurea 105 mg
Vitamin C (from Ester-C®) 34 mg
Oregon Grape Root 34 mg
Inactive Ingredients
Natural Flavoring, Non-Fat Dry Milk, and Silica Aerogel.
Directions For Use (Daily Maintenance):
Dogs & Cats Up to 15 lbs. 1 scoop
Dogs 16 to 50 lbs. 1-1/2 scoops
Dogs 51 lbs. & over 2 scoops
*1cc scoop equals 1/5 teaspoon.
Give twice daily for one week up to three weeks. Then no more than twice weekly or per your veterinarian's recommendations.
Visit NaturVet Website to know more about NaturVet Cranberry Relief Plus Echinacea Powder