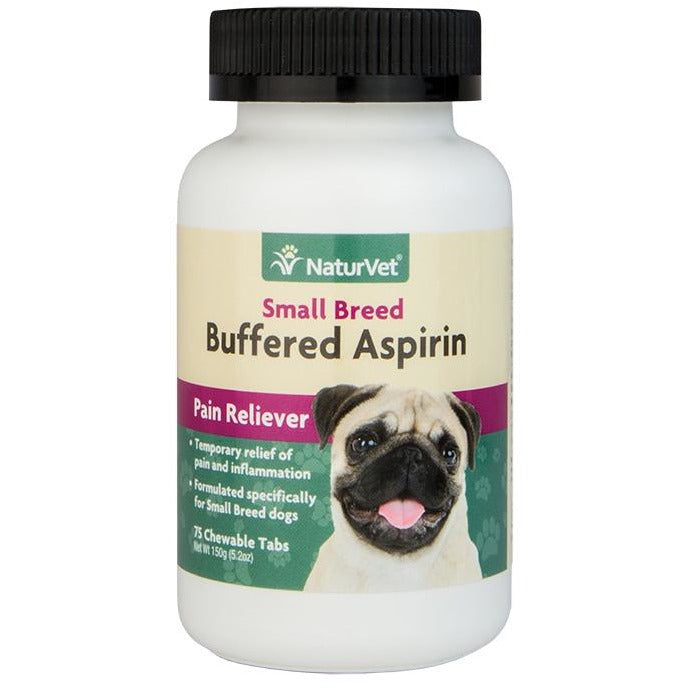 20% OFF: NaturVet Buffered Aspirin Small Breed Chewable Tablets For Dogs
Sold out
Original price
$26.00
-
Original price
$26.00
Available in 1 size only - 75ct
Breed Size:
 Small Breeds
Life Stages:
All Stages
Special Diet:
 Pain Relief
Made In: United States
Do Not Administer to Cats.
For use in dogs over the age of 6 months. Use NaturVet® Small Breed Buffered Aspirin for dogs under 24lbs. Formulated for temporary relief of pain and inflammation. To reduce stomach upset, administer with food or after meals. Not recommended for long term use.
Cautions:
The safe use of this product in pregnant animals or animals intended for breeding has not been proven. If animal's condition worsens or does not improve, stop product administration and consult your veterinarian. Administer during or after the animal has eaten to reduce incidence of gastrointestinal upset. Potential gastric irritation with prolonged use in dogs. Consult your veterinarian before administering.
Warnings:
For animal use only. Keep out of reach of children and animals. In case of accidental overdose, contact a health professional immediately.
Adminster according to dog's weight.
Directions For Use:
Weight Amount
2 to 6 lbs 1/2 tablet daily
7 to 13 lbs 1 tablet daily
14 to 23 lbs 2 tablets daily
Not recommended for long term use.
Visit NaturVet Website to know more about NaturVet Buffered Aspirin Small Breed Chewable Tablets