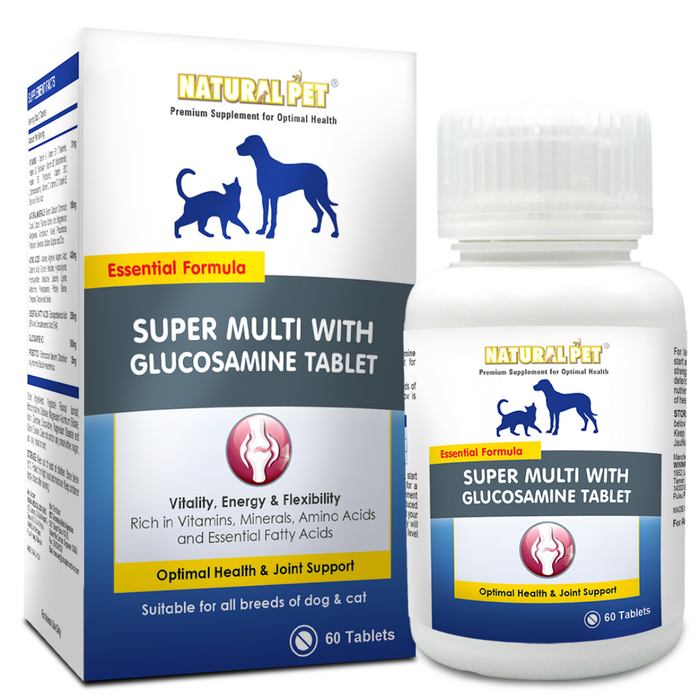 15% OFF: Natural Pet Super Multi With Glucosamine Tablet Supplement For Dogs & Cats
Save

$7.50
Save

$7.50
Original price
$50.00
-
Original price
$50.00
Available in 1 size only - 60 Tablets 
Breed Size: All Sizes
Life Stages: All Stages
Special Diet: Skin & Coat, Joint Care
This unique formula ensures your dog and cat get all the important vitamins, minerals, amino acids, essential fatty acids and probiotics in order to enhance their mental and physical health. 
It combines with Glucosamine, an important joint repairing and protecting ingredient which has been proven to improve mobility and restore flexibility. Glucosamine is essential to the body and is a basic building block for specialized molecules known as  glycosaminoglycans, which are important for the development of cartilage, bone, tendon, ligament, nail, hair and skin. 
Glucosamine is used to relieve joint pain and protect against long-term deterioration of the joints by helping to stimulate the growth of cartilage. Glucosamine is important for maintaining the elasticity, strength and resilience of cartilage in joint. In supporting cartilage and other connective tissue, Glucosamine enhance the production of Hyaluronic Acid and enhances the anti-inflammatory action of this molecule. Furthermore, it can increase the synthesis of collagen and enable the repair of damaged joint and skin.
Essential fatty acids are as vital to health as vitamins and minerals. They are the building blocks for prostaglandins which help to regulate hormone, immune system, nervous system and cardiovascular function.
Essential fatty acids reduce the overproduction of inflammatory compounds and is useful in the control of inflammation in joint and muscle. This effect can decrease the pain and increase the ease of movement to provide much needed relief especially for dog or cat with arthritis or recovering from injury. 
Probiotics improve the digestion of food by producing useful enzymes and also increase the absorption of nutrients into the body. Probiotics help to protect the body against infections and diseases and produce immune system stimulating agents to boost body's natural immune system.
This combination of essential nutrients is highly beneficial to ensure optimal health and also promote strong healthy joint to allow your dog and cat to enjoy an active life.
Improve joint mobility and restore flexibility

Relieve joint pain and protect against deterioration

Support tissue growth and promote formation of collagen

Repair damaged joint and skin

Enhance immune system and protect against infections

Ensure vitality, flexibility and optimal health
Active Ingredients
Vitamins  31mg
Natural Minerals  180mg
Amino Acid  430mg
Essential Fatty Acids  250mg
Glucosamine HCI  500mg
Probiotics  35mg 
Other Ingredients
Vegetable Flavour
Inulin
Microcrystalline Cellulose
Isomalt
Magnesium Aluminum Silicate
Dextrose
Copovidone
Magnesium Stearate
Silicon Dioxide.
Suitable for all breeds of dog and cat. To ensure optimal benefits, the recommended daily dose below is calculated based on weight.
| | |
| --- | --- |
| Weight | Tablet |
| Below 10kg | 1 tablet |
| 10 to 20kg | 2 tablets |
| Above 20kg | 4 tablets |
 This supplement can be mixed or sprinkled on top of food. For dry food, sprinkle with some water. It can also be mixed with water, juices or milk. Do not mix with hot food, hot water or warm milk.
Depending on the severity of the joint problems, the recommended dose may be given twice daily for a period of 2 to 4 weeks. Once gradual improvement in mobility has been noticed, this initial dose can be reduced down to once daily.
Visit Natural Pet Website to know more about Natural Pet Super Multi With Glucosamine Supplement For Dogs & Cats