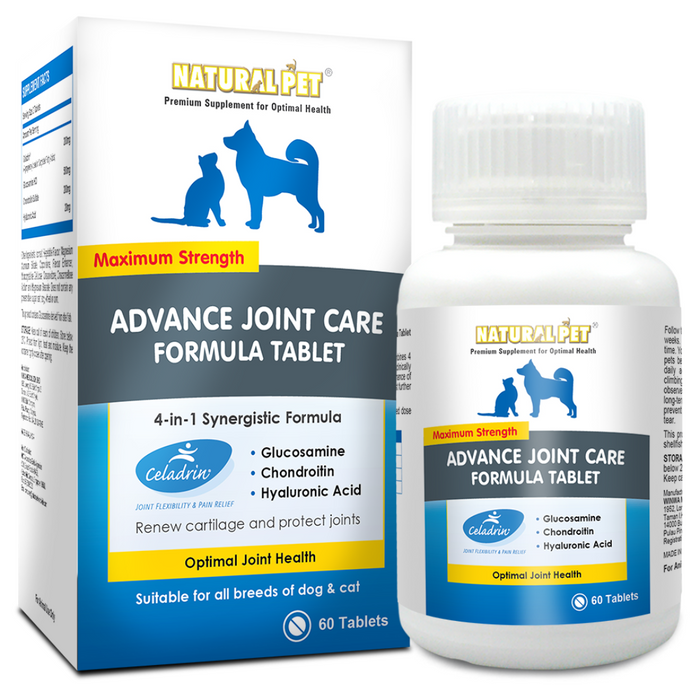 15% OFF: Natural Pet Advanced Joint Care Formula Tablet Supplement For Dogs & Cats
Save

$18.00
Save

$18.00
Original price
$120.00
-
Original price
$120.00
Available in 1 size only - 60 Tablets
Breed Size: All Breeds
Life Stages: All Stages
This specially formulated supplement combines 4 remarkable active ingredients that has been clinically proven to be very beneficial in the maintenance of healthy joint and for the protection against further deterioration of cartilage.
Celadrin® is a cellular lubricant which provides fast, long lasting joint relief and helps to enhance overall joint health and functional ability. It has been clinically shown to reduce pain and inflammation without harmful side effects associated with  corticosteroids and non-steroidal anti-inflammatory drugs (NSAIDs) such as stomach ulcers and kidney problems. 
Glucosamine stimulates proteoglycans synthesis and helps to rebuild the damaged cartilage. It protects joints from further degeneration. 
The low molecular weight Chondroitin Sulphate in this supplement is the most researched brand of Chondroitin Sulphate in the market and has been used in numerous clinical studies with proven effectiveness and bioavailability. It stimulates the production of collagen and inhibits the activity of degenerative enzymes in the joints.
The full clinical benefits of Glucosamine and Chondroitin have been well-established in many scientific studies which indicate that these ingredients can relieve joint pain and may help to reverse joint degeneration. 
The high molecular weight Hyaluronic Acid is significantly more effective than other regular Hyaluronic Acid on the market today. The high molecular weight Hyaluronic Acid provides better joint lubrication, shock absorbency and perhaps greater anti-inflammatory effects and protects joints against overuse.
The holistic way to treat joint problem is to provide the essential nutrients for the cartilage to heal and to slowdown the degeneration of joint which is safe and does not cause serious side effects.
This maximum strength liquid provides the highest effective dose to ensure superior bioavailability and faster absorption into the body. It provides effective pain relief and improves overall joint health so that your pets can move with ease.
Features
4-in-1 synergistic formula for optimal joint health and protection against wear and tear
Celadrin® for continuous joint lubrication
High purity Glucosamine and low molecular weight Chondroitin Sulphate help to rebuild damaged cartilage and prevent degeneration
High molecular weight Hyaluronic Acid protects joints from overuse and shocks
Health Benefits
Maintain healthy joint

Relieve joint pain and inflammation

Rebuild joint cartilage

Improve joint function and ability

Protect joints from further degeneration or overuse

Provide better joint lubrication and shock absorbency
Active Ingredients
Celadrin®  200mg
Glucosamine HCI  500mg 
Chondroitin Sulphate  200mg
Hyaluronic Acid  20mg
Other Ingredients
Isomalt
Vegetable Flavour
Magnesium Aluminum Silicate
Copovidone
Flavour Enhancer
Microcrystalline Cellulose
Crospovidone
Croscarmellose Sodium
Magnesium Stearate
Suitable for all breeds of dog and cat. The recommended dose below is calculated based on weight
| | |
| --- | --- |
| Weight | Daily Dose |
| Below 10kg | 1 tablet |
| 10 to 20kg | 2 tablets |
| 20 to 30kg | 3 tablets |
| Above 30kg | 4 tablets |
This supplement can be crushed and then mixed with the preferred pet's food.
Follow the recommended dose for at least 4 to 6 weeks. Some may respond in a shorter period of time. You will notice gradual improvement as your pets become more comfortable to perform their daily activities such as walking, running and climbing the stairs. Once improvement has been observed, continue with the recommended dose for long-term maintenance of healthy joints and to prevent further joint deterioration due to wear and tear.
Visit Natural Pet Website to know more about Natural Pet Advanced Joint Care Formula Tablet Supplement For Dogs & Cats