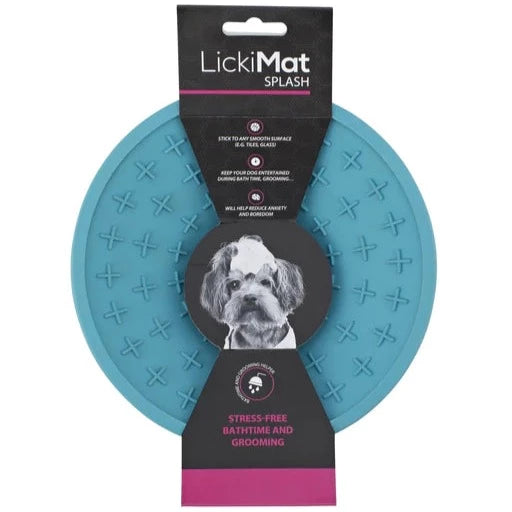 LickiMat® Turquoise Splash™ For Dogs
Original price
$25.00
-
Original price
$25.00
LickiMat® Splash™ is the perfect distractor for grooming and bathing.  Also perfect for vertical surfaces.  
The Splash is the only LickiMat with a suction cup.  Please spray the surface with water before applying for maximum strength.  For a video that demonstrates best practice, click here https://www.youtube.com/watch?v=5JQyBUYTTBs.  You will see a Splash being used to pull a car!
Make bath time, grooming, vet visits fun again with a Lickimat Splash. Suction cap allows it to stick to any hard surface like tiles, glass and laminates.
By spreading your pet's favourite soft treat over the surface, you create a tasty fun game with them having seek out every morsel with their tongue. Freeze treats in summer for refreshing longer lasting entertainment. Recommended by vets and animal behaviourists worldwide!
Medical free way to promote calm behaviour in your pet while home alone or during stressful times, like storms
Great for calming pets before a procedure/treatment e.g. at vets or groomers
Repetitive licking is soothing for your pet, releasing a calming hormone into the body
No over feeding because Lickimat makes a small tasty treat last longer
Licking enhances the sense of taste, allowing pet to enjoy just a small amount of food
Helps promote fresh breath by scraping off bacteria and undigested food particles from the tongue
Made from natural rubber
5 x 19 cm/ 2" x 7 1/2"
Suitable for cats, puppies, small and medium dogs (supervise pet for first few times until sure they will not chew mat)
Freezer safe
Dishwasher safe
The Splash use video is below.