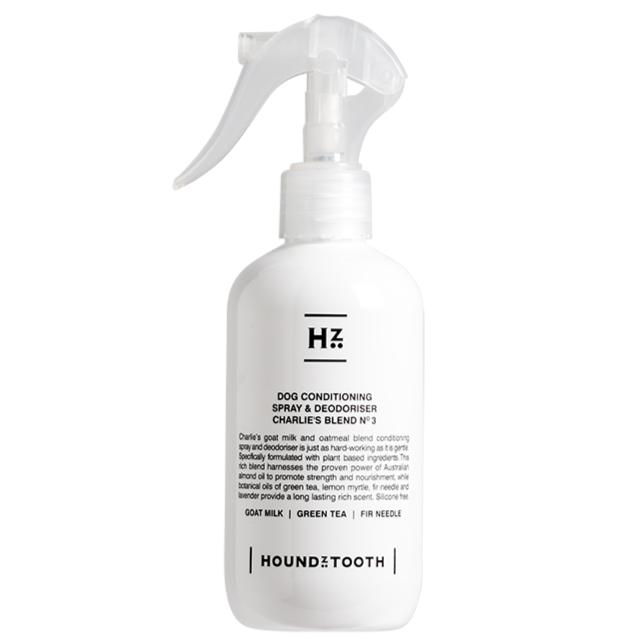 Houndztooth Charlie Blend No.3 Oatmeal Dog Conditioning Spray & Deodoriser For Everyday Revitalise & Balance
Original price
$33.90
-
Original price
$33.90
Available in 1 size only - 250ml
Made In: Australia 
Charlie's goat milk and oatmeal blend conditioning spray and deodoriser is just as hard-working as it is gentle. Specifically formulated with naturally-derived based ingredients. This rich blend harnesses the proven power of Australian almond oil to promote strength and nourishment, while botanical oils of green tea, lemon myrtle, fir needle and lavender provide a long lasting, rich scent. Silicone free.
Product Benefits:
Specifically formulated for dog's with sensitive skin.
Goat milk is rich in essential fatty acids and triglycerides. It contains lactic acid, which is an alpha hydroxy acid (AHA) that assists to gently slough off dead skin cells and brings new cells to the surface which helps to hydrate and brighten your dog's skin.  It also acts as a natural exfoliant, which helps to keep your dog's skin prone to allergies, irritation, redness or dryness, soft and supple.
Green tea essential oil is used for its anti-aging compounds and antioxidants which help make your dog's skin tighter which helps prevent the formation of harmful substances from forming on their skin.
Charlie's blend harnesses the power of Australian botanical oils of green tea, lemon myrtle, fir needle and lavender provide rich scent and powerful nourishment.
Specifically formulated with naturally-based ingredients to promote lustre and volume with every lather. Silicone free.
Proudly made in Melbourne, Australia. 
Grooming Tips: 
Recommended for short, double, curly and long coats.
Leave-in detangler which can be used on dry and wet coats.
Aroma
Manuka honey, lavender, rosemary and paperbark essential oils.
Ingredients

Aroma of green tea, lemon myrtle, fir needle and lavender essential oils.
Ingredients:Aloe Barbadensis (Aloe) Leaf Juice, Cetearyl Alcohol, naturally-derived surfactants, Goat Milk, Australian botanicals & essential oils, Prunus Amygdalus (Almond) Oil, Camellia Sinensis (Green Tea) Extract, Abies Sibirica Oil, Avena Sativa (Oat) Kernel Extract.
No SLS or EDTA
Palm Oil & Paraben Free
No Artificial Colours
No Harsh Ingredients
Simple Ingredients. Simple Directions.
Shake well before use.  For optimal results, use following Houndztooth Hugo's Blend No.1 Dog Shampoo. Generously apply the spray over your dog's wet or dry coat.  Gently work into the coat with your fingertips, a comb, or brush. No rinsing required. Be considerate of tangles and longer coats.  To ensure lasting freshness, apply between washes.
Our grooming products are carefully and intentionally crafted, using only the highest-quality naturally-derived ingredients. We hold ourselves to a higher standard, to provide your companion with pH balanced, cruelty-free, pet-friendly products. We promise never to use harmful or untrusted additives in any of our grooming supplies.
Visit Houndztooth website to know more about Houndztooth Charlie Blend No.3 Oatmeal Dog Conditioning Spray & Deodoriser For Everyday Revitalise & Balance