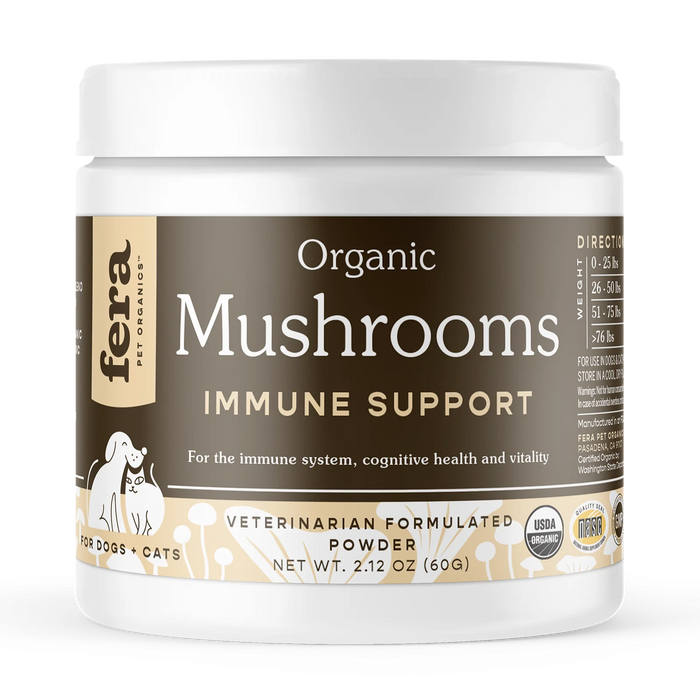 Fera Pet USDA Organic Mushroom Blend Immune Support For Dogs & Cats
Original price
$54.90
-
Original price
$54.90
Available in 1 size only - 2.16oz
Breed Size: All Breeds
Life Stages: All Stages
Special Diet: Immune Support, Overall Health Care
Made In: United States
We routinely take supplements to stay healthy and prevent illnesses, and we believe that our pets should, too! That's why we created our Organic Mushrooms Blend since "an ounce of prevention is worth a pound of cure." For starters, these organic mushrooms are designed to strengthen immune system function and response. On top of that, they support brain health, enhance cardiovascular function, promote healthy digestion and help normalize blood sugar levels. This powerful blend of mushroom magic will keep your dog or cat ready to take on any day for many years to come.
This small but mighty jar contains finely blended powder from 10 of the highest quality, immune-boosting mushrooms. Fera's organic mushrooms are derived from 100% fruiting bodies which contain the highest levels of Beta glucans - the active polysaccharides that support a healthy immune system.
What is β-Glucan? They're the most important component found in mushrooms! Research shows beta glucans effectively stimulate an increased immune response and may even fight cancer. But not all mushrooms contain enough beta glucan levels. At Fera, we test our mushrooms to measure beta glucan levels to guarantee effectiveness and quality.
You won't find any fillers, mycelium, grain or starch in our immune support blend. Only 100% goodness!
Why Fera?
Fruiting Bodies > Mycelium
Never settle for less. At Fera, we always choose the best of the best. Each one of our 10 organic mushrooms is 100% fruiting body. The majority of mushroom supplements contain mycelium which are grown on grains, lowering the mushroom's active compounds. The "real mushroom" which is the above ground fruiting body, offers a more potent and higher quality product than mycelium extracts.
Active Ingredients per 1 scoop
Organic Lion's Mane
Organic Red Reishi
Organic Shiitake
Organic Cordyceps
Organic Maitake
Organic Turkey Tail
Organic Chaga
Organic Oyster
Organic Poria
Organic Tremella
Feed orally by adding the recommended amount to your pet's food with the included scoop.
The scoop is equivalent to ¼ teaspoon.