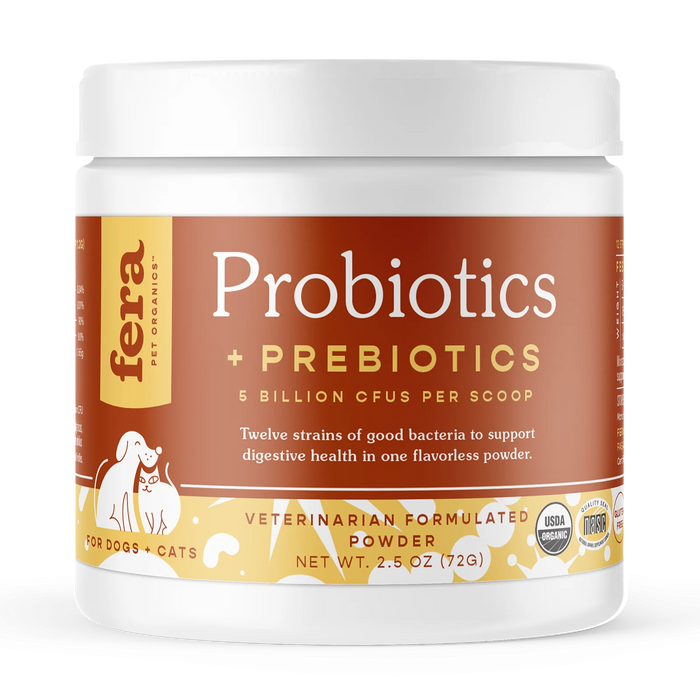 Fera Pet Organics USDA Organic Probiotics With Prebiotics For Dogs & Cats
Original price
$38.50
-
Original price
$38.50
Available in 1 size only - 60 servings
Breed Size: All Breeds
Life Stages: All Stages
Special Diet: Digestive Support, Overall Health Care 
Made In: United States
Tummy aches, loose stool, gas, low energy—it always hurts to see our pets suffer from chronic or periodic intestinal issues. It's why we created Fera's Probiotics + Prebiotics to keep your pet's digestive system humming along perfectly. 
Probiotics are beneficial microorganisms that help control the balance of the digestive system, aid in reducing loose stool due to environmental or dietary changes, and support the immune system and skin health.
Dr. Dulake custom-picked 12 living strains with powerful dosing of 5 billion CFUs to actually make a positive difference in your pet's digestive health. Our probiotics also include organic prebiotics that supports normal microbial balance and the growth of beneficial bacteria in your pet's intestines.
Best of all, this flavorless powder easily mixes into your pet's food. It's easy and effective!
Gut health: Promotes healthy intestinal tract, digestion, and normal stools. 
Immunity: 12 powerful strains of good bacteria promote a healthy microbiome and immune system. 
Skin + Coat: Supports skin health and may reduce itching and hot spots from allergies. 
Energy: Increases gut flora for an energy boost.
Why Fera?
Not all strains are created equal. When it came time to formulate our probiotics, Dr. Dulake made sure each strain held a specific function and when combined, worked in conjunction to enhance your pet's digestive health.
S. boulardii calms the intestines and protects them from pathogens that can damage your pet's intestinal walls. B. Infantis breaks down complex carbohydrates that gut cells are unable to digest.
12 strains of good bacteria (5 billion CFUs per scoop)
Lactobacillus Acidophilus
Lactobacillus Casei
Saccharomyces Boulardii
Lactobacillus Plantarum
Bifidobacterium Infantis
Lactobacillus bulgaricus
Bifidobacterium Bifidum
Bifidobacterium Longum
Enterococcus Faecium
Lactobacillus brevis
Lactobacillus Rhamnosus
Streptococcus Thermophilus
Organic Prebiotic
FOS (fructooligosaccharides)
Organic Inulin derived from Agave
Organic Acacia
Feed orally by adding the recommended amount to your pet's food with the included scoop. This flavorless powder easily mixes into their meal — they won't even know it's there. 
The scoop is equivalent to ½ teaspoon.