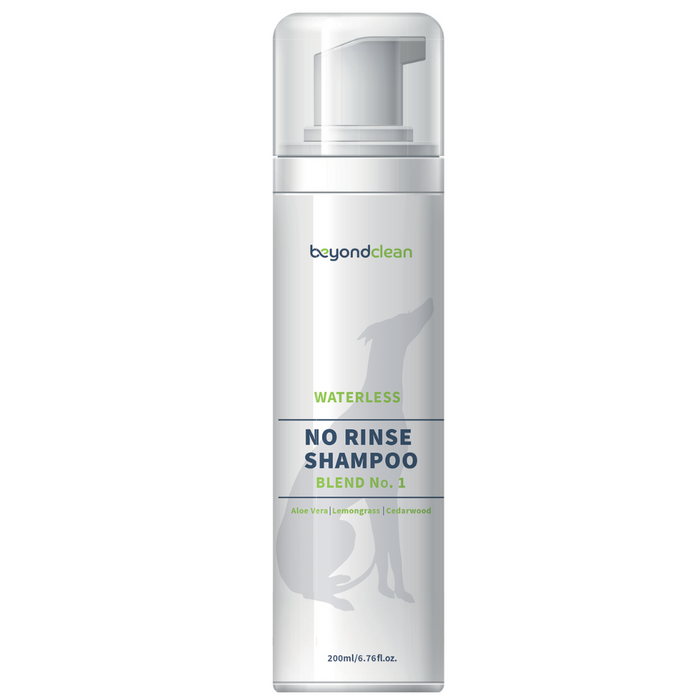 Beyond Clean Blend No.1 Organic Aloe Vera, Lemongrass & Cedarwood Waterless No Rinse Shampoo Foam
Original price
$21.20
-
Original price
$21.20
Available in 1 size only - 200ml 
Clean, disinfect, moisturise, deodorise and protect against fleas, ticks, and bugs all in one easy step with our uniquely formulated Waterless No Rinse Shampoo.
Designed to be used to keep your dog clean and smelling fresh quickly and easily in between their deep cleaning baths, our all natural dog Waterless No Rinse Shampoo is a simple blend of organic aloe vera, Ecocert-approved natural cleanser, organic essential oils, and pet safe disinfectant. pH balanced and safe for use on your pets with no rinsing necessary.
Lemongrass, Sweet Orange, Cedarwood, and Catnip are effective natural deterrents to fleas, ticks, and bugs, and also help to reduce the presence of yeast, fungi, bacteria, and viruses. Our sprays are formulated to be pH balanced and safe for dogs to lick. Available in Blends No. 1 (organic Lemongrass & Cedarwood) and No. 2 (organic Sweet Orange & Cedarwood) which are suitable for dogs, and organic Catnip (suitable for both cats and dogs).
Features:
Cleans & Disinfects (99.999%)

Kills Parvovirus and Leptospira

Safe around food, children, pets and plants

PH balanced

Eco-friendly and biodegradable

Repels fleas, ticks & bugs 

Moisturises & Conditions

Gentle yet effective cleaning

No rinsing needed

Ecocert approved natural ingredients

100% Organic Essential Oils

Deactivates the source of odours
Organic Aloe Vera
(Aloe Barbadensis) Leaf Juice
For thousands of years, aloe vera has been known as a natural healing plant, known to be able to heal cuts, dry skin, and moisturize skin and hair/fur. Aloe is packed with polysaccharides and flavonoids with high antioxidant activities and antibacterial and anti-inflammatory properties. We include organic Aloe Vera in our formula to treat a variety of skin conditions from flaky or dry skin, burns, scrapes, eczema, dandruff, psoriasis, and more.
Organic Cedarwood
(Cedrus Atlantica) Essential Oil
Cedarwood essential oil is an antiseptic, fungicidal, anti-putrescent, antiseborrheic, astringent, mucolytic, and stimulant to the circulatory system.

We use 100% pure organic Cedarwood Essential Oil in Blends No. 1 and 2 for its natural aroma, fungicidal and antiseptic properties, to improve skin conditions, and its excellent ability to repel fleas, ticks, and bugs.

Organic Lemongrass
(Cymbopogon Flexuosus) Essential Oil
Apart from having a fantastic scent, Lemongrass is a very effective natural astringent (cleanser) with toning qualities which helps stimulate blood circulation and tone up dermal tissues while providing natural protection against microbes. It is also an analgesic, antidepressant, antimicrobial, antioxidant, antipyretic, antiseptic, astringent, bactericidal, deodorant, febrifuge, fungicidal, insecticidal.

We use 100% pure organic Lemongrass Essential Oil in Blend No. 1 to cleanse and tone the skin whilst offering protection against yeast, fungus, microbes, and insects (fleas, ticks, lice, mosquitos).
Blend No. 1 Ingredients: Aqua, Organic Aloe Barbadensis (Aloe Vera) Leaf Juice, Ecocert Coconut Derived Cleanser, Organic Coconut Oil, Organic Cymbopogon flexuosus (Lemongrass), Organic Cedrus Atlantica (Cedarwood), QAC (Pet Safe Disinfectant & Antiseptic)
What's NOT in our pet products:

– NO Ammonia
– NO Artificial Colour
– NO Bleach
– NO EDTA
– NO Formaldehype
– NO Palm Oil or Derivatives
– NO Parabens
– NO Phthalates
– NO Sodium Laureth Sulphate (SLS)
– NO Triclosan
For foaming bottles (suitable for medium to short coats): Shake before use. Generously apply foam all over your pet's coat, avoiding the eyes. Focus application on areas prone to a stronger natural smell, such as above hind legs, around ears, on and around the beard. Work through the coat with your fingertips and/or a brush, depending on the coat. For a more natural curl, use your fingertips only. Wipe off any excess with a mildly moist towel and allow to air dry naturally.
Note: Avoid getting product into your pet's eyes or ears. To wash your pet's face do apply the foam on a clean washcloth.
For external use only, avoid eyes. Keep out of reach of children. Seek medical advice if swallowed.
Visit Beyond Clean website to know more about Beyond Clean Blend No.1 Organic Aloe Vera, Lemongrass & Cedarwood Waterless No Rinse Shampoo Foam