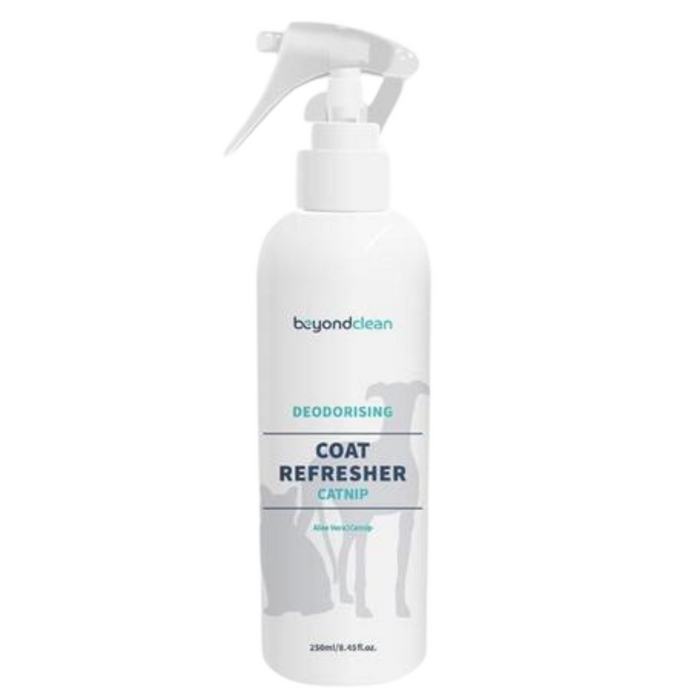 Beyond Clean Organic Catnip Deodorising Coat Refresher Spray
Original price
$24.90
-
Original price
$24.90
Available in 1 size only - 250ml 
Disinfect, moisturise, deodorise and protect against fleas, ticks, and bugs all in one easy step with our uniquely formulated Coat Refresher & Deodoriser.
Designed to be used in-between baths, our all natural coat refresher & deodoriser is a simple blend of organic aloe vera, organic essential oils, and pet safe disinfectant and antiseptic formulated to provide a light mist of beneficial essential oils to help your pet's coat and skin stay clean, moisturized and smelling fresh!
 Lemongrass, Sweet Orange, Cedarwood, and Catnip are effective natural deterrents to fleas, ticks, and bugs, and also help to reduce the presence of yeast, fungi, bacteria, and viruses. Our sprays are formulated to be pH balanced and safe for cats and dogs. Available in Blends No. 1 (organic Lemongrass & Cedarwood) and No. 2 (organic Sweet Orange & Cedarwood) which are suitable for dogs, and organic Catnip (suitable for both cats and dogs).
Features:
Cleans & Disinfects (99.999%)

Kills Parvovirus and Leptospira

Safe around food, children, pets and plants

PH balanced

Eco-friendly and biodegradable

Repels fleas, ticks & bugs 

Moisturises & Conditions

Ecocert approved natural ingredients

100% Organic Essential Oils

Deactivates the source of odours

Assists with brushing
Organic Catnip
(Nepeta Cataria) Essential Oil
Catnip is a prized essential oil that is uniquely gentle and suitable for both Cats and Dogs. Catnip Essential Oil is naturally antiseptic, anti-bacterial, anti-viral, and anti-fungal. It is also highly effective as a bug repellent including fleas, ticks, flies, and mosquitos.
Cats love and go crazy over catnip as it can increase their energy, mood, and even calm their fragile feline nerves. Dogs dig Catnip too as it is not only safe for them, it is also good for them! Though catnip is a stimulant for cats, the plant has the opposite effect on dogs helping calm them down and to get them feeling relaxed.

What's NOT in our pet products:

– NO Ammonia
– NO Artificial Colour
– NO Bleach
– NO EDTA
– NO Formaldehype
– NO Palm Oil or Derivatives
– NO Parabens
– NO Phthalates
– NO Sodium Laureth Sulphate (SLS)
– NO Triclosan
Shake before use and simply apply several sprays on your dog's coat and work through with your fingertips. . Focus application on areas prone to a stronger natural smell, such as above hind legs, around ears, on and around beard. You can also spray the deodoriser & brush the coat making grooming an easier task.

Note: Avoid getting product into your pet's eyes or ears. To deodorise your pet's face or head area, spray product onto clean hands and gently work into fur around the area.

For external use only, avoid eyes. Keep out of reach of children. Seek medical advice if swallowed.

Visit Beyond Clean website to know more about Beyond Clean Organic Catnip Deodorising Coat Refresher Spray