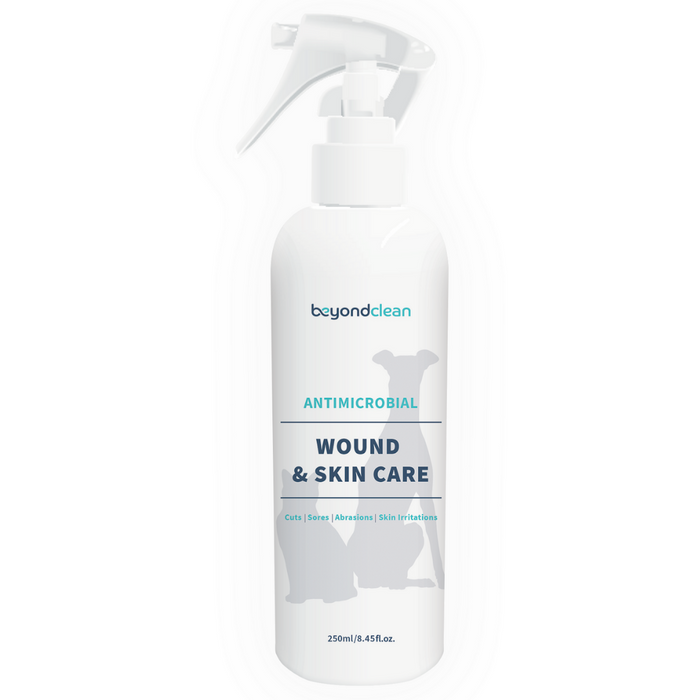 Beyond Clean Antimicrobial Wound & Skin Care Spray
Original price
$19.90
-
Original price
$19.90
Available in 1 size only - 250ml 
Make Beyond Clean Pet Wound & Skin Care your go-to first aid solution to clean your pet's cuts and scrapes or relieving irritated or itchy skin. Cleans and disinfect cuts, abrasions and other wounds or skin irritations gently without stinging or burning. Our Pet Wound Cleaner is formulated with our unique anti-microbial technology to kill 99.999% of bacteria, viruses, yeast and fungus and is even safe for dogs and cats to lick.
Registered and approved by FDA, VMD, and APVMA as a product suitable for pets and humans. Does not contain antibiotics or steroids so there is no potential for adverse reactions.
Features:
Instant Sanitisation

Non-stinging or burning on skin and wounds

Promotes the healing process by keeping the wound area clean and moist

Safe around food, children, pets, and plants

Eco-friendly and biodegradable

Recommended by Microbiologists (Efficacy verified by over 80 lab results and peer review papers)

Cleans & Disinfects (99.999%)

Relieves Itch & Pain

Kills 99.999% of Bacteria
Uses:
Aqua, Amphoteric Surfactant, QAC (Pet Safe Disinfectant & Antiseptic)

Meets or exceeds AOAC/EPA, APVMA, EN, AFNOR standards
What's NOT in our pet products:

– NO Ammonia
– NO Artificial Colour
– NO Bleach
– NO EDTA
– NO Formaldehype
– NO Palm Oil or Derivatives
– NO Parabens
– NO Phthalates
– NO Sodium Laureth Sulphate (SLS)
– NO Triclosan
Adjust spray nozzle and saturate the affected area, flushing away any foreign debris. If dressing is required, saturate dressing with Beyond Clean Pet Wound & Skin Care at each dressing change. Repeat 3-4 times per day or as necessary. Faster healing is achieved when wounds are cleaned and maintained moist.
Suitable for use as a hand sanitiser and antiseptic/wound cleaner on humans too.