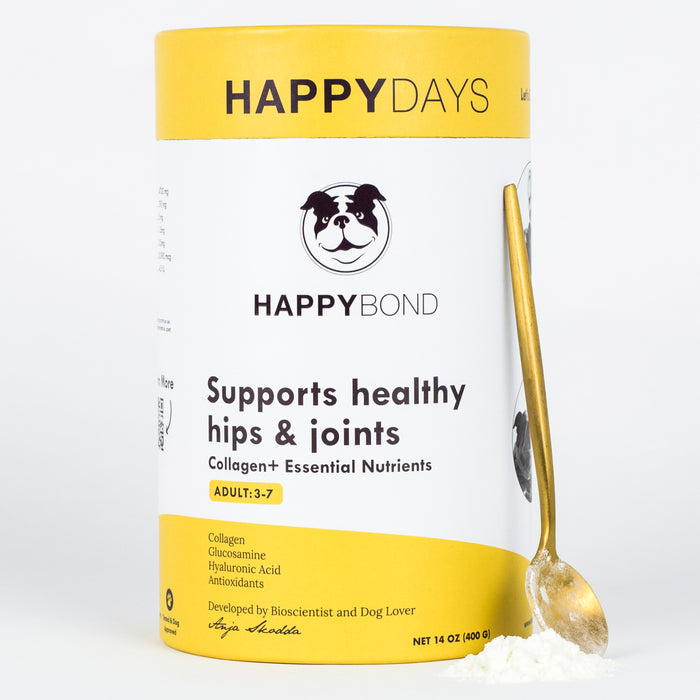 25% OFF: HappyBond Happy Days Collagen+ For Joint & Hip Supplement For Adult Dogs
Save

$30.00
Save

$30.00
Original price
$118.00
-
Original price
$118.00
Available in 1 size only - 14oz/400g 
Life Stage: Adult Dogs (3-7years old)
Made In: United States 
For 3 to 7 years old. Maintain your dogs biosynthesis on a cellular level. Immunifying super supplement! 
Maintains your dogs biosynthesis on a cellular level
Immunity fueling, anti-aging and multi integrative formulas fro your super dog
Careful fragmentation for 99% molecular bioavailability
Functional level of all 20 amino acids extracted in a patented process
Sourced exclusively in Germany
Combined with potent anti-inflammatory and immune boosting elements
Increased immunity, improved movement, decreased joint pain, reduced inflammation and youthful cell renewal
80 scoops/package - sprinkle over dog's food
Features:
No fillers 
No chemicals
No additives 
No artificial anything 
Shinier coat 
Improves mobility
Preventative
Human grade 
100% active ingredients 
What to expect the result:
As your dog is most likely at the peak of their agility, you will recognise the benefits in the shiny coat and healthy energy. It is not always what you see from the outside, you can be assured that you are giving your dog the best for a long lasting healthy joint life!

Why it works the science:
Our founder, Anja, is a biotech scientist specializing in cartilage tissue engineering. What does that mean for your pup? Your dog's joints are primarily composed of collagen, which naturally deteriorates with age, often resulting in stiffness and joint discomfort. Anja used her research in cartilage rebuilding to create HappyBond's Collagen+ formula proven to activate collagen biosynthesis with Vitamin C. Also, the glucosamine reduces joint inflammation due to stress and exercising, while the hyaluronic acid lubricates the joints and keeps synovial fluid moist. All the while, Vitamins D and E keep your pup's skin and hair healthy and vibrant.
Visit HappyBond website to know more about HappyBond Happy Start Collagen+ For Joint & Hip Supplement For Puppies & Young Dogs