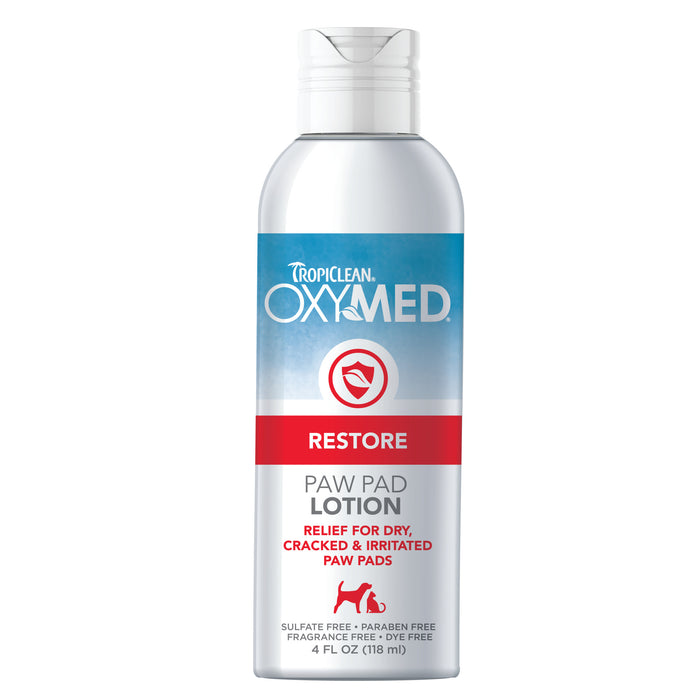 20% OFF: TropiClean OxyMed Restore Paw Pad Lotion For Dogs & Cats
Sold out
Original price
$22.00
-
Original price
$22.00
Available in 1 size only - 4oz
Breed Size:
All Breeds
Life Stages:
All Stages
Made In: United States
OxyMed Paw Pad Lotion helps relieve dry, cracked and irritated dog paw pads, snouts, and elbows. Enhanced with vitamin A & E, shea butter, and jojoba oil, this gentle solution restores sensitive areas and helps relieve itchy skin. Lotion is smooth, creamy, and leaves behind no residue.

Features:
Soothing Lotion: Provides effective relief for dry, cracked, irritated dog paw pads, snouts, and other thick or sensitive skin areas.

Restores Dry, Sensitive Skin: Light and creamy moisturizer quickly absorbs into thick skin tissue to help soothe and hydrate sore, itchy paw pads without leaving greasy paw prints.

Preventative Care: Dry, cracked, and irritated paw pads, snouts, and elbow calluses can turn into more serious conditions if not addressed quickly. OxyMed Paw Pad Lotion helps keep damage-prone, sensitive areas healthy and protected from further cracking and irritation.

Nourishing Ingredients: Enriched with a nourishing blend of vitamin A & E, shea butter, and jojoba oil to revitalize sensitive skin areas. Creamy formula leaves no residue behind.

Protects Paws: Soothing lotion helps protect sensitive paws from damage caused by turf burn or abrasive surfaces.

Ingredients Spotlight:
HYDROXYPROPYL STARCH PHOSPHATE:

Naturally derived thickener that gives the product a creamy consistency.



ALOE EXTRACT:

Hydrates the skin and coat.



JOJOBA OIL:

Moisturizes and balances the skin's oil production.



SHEA BUTTER:

Moisturizes and softens the skin and coat.



VITAMIN A:

Contains antioxidants that help reduce inflammation.



VITAMIN E:

Helps lock in moisture by forming a protective layer on the surface of the skin.



Apply a generous amount of lotion to paw pads, nose, or elbow callus, and gently massage into skin until absorbed. Store lotion at room temperature. Safe for daily use as directed.
Visit TropiClean Website to know more about TropiClean OxyMed Restore Paw Pad Lotion For Dogs & Cats