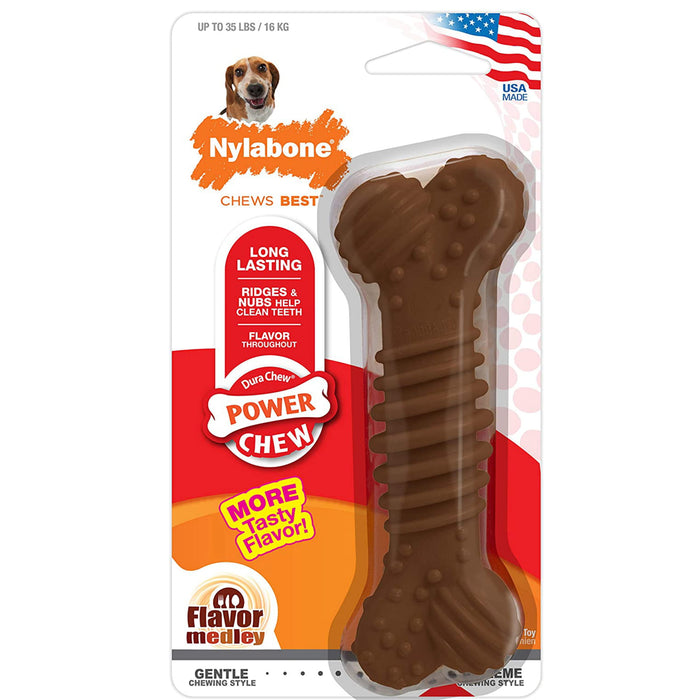 20% OFF: Nylabone Dura Chew Power Chew Textured Medley Bone Chew Toy
Save

$4.55
Save

$3.00
Original price
$15.00
-
Original price
$22.70
Available in 2 sizes - Regular & Wolf
Breed Size: All Breeds
Life Stage: All Stages
Made In: United States
Powerful dogs need powerful chew toys! Made with tough, durable nylon and a textured surface for extra chewing fun, the Nylabone Dura Chew Power Chew Textured Bone is the long-lasting chew toy you need for aggressive chewers. The bristles raised during chewing promote clean teeth and fresh breath and help control plaque and tartar buildup. Your dog is sure to love the scrumptious flavor medley of this chew toy, too! Color may vary.

Tough, durable nylon bone keeps powerful chewers busy
Nubs and ridges help clean teeth and fight plaque and tartar buildup
Textured
Chew toy made in the USA; color may vary
Delicious flavor dogs love
Chew toy for dogs up to 25 pounds
Choose the Best Nylabone® Product for your Dog with this Nylabone® 3-step Process™
Get to know your dog's chewing style - It is important to select the appropriate chew type, size, and formulation based on your dog's age, breed, chewing style and weight. The pressure exerted by a dog's jaw is considerable, and when directed straight down can put tremendous stress on their teeth. It is recommended that non-edible chews be large enough to encourage chewing from the side rather than the top and bottom.
If your dog is between sizes, choose the larger-size chew item. If you have more than one dog in your household, select chews appropriate for the largest, strongest chewer. If your dog is an especially strong chewer, a larger chew may provide more of a challenge.
Nylabone® makes both Non-Edible Chew Toys and Edible Chew Products - Edible Chew products are treats: Their lifespan is determined by each individual dog's chewing style and strength. These all-natural chews are edible and highly digestible. Be sure that your dog does not break off and swallow large pieces. Remember to supervise the use of these chews and toys!
NON-EDIBLE CHEW PRODUCTS are made with plastic, rubber, or nylon. They are NOT intended for consumption. During normal chewing, tiny bristle-like projections are raised that help clean teeth. If these tiny pieces (no larger than a small grain of rice) are ingested, they should pass through. A dog should not be able to break off larger pieces of any Nylabone® Non-Edible Chew. If you think that your dog swallowed a large piece of a Non-Edible Chew, take the chew away and contact your veterinarian for advice. No dog toy or chew is totally indestructible. Frequently inspect any chew before giving it to your dog to make sure it's whole and intact, with no missing pieces. Replace a Non-Edible Chew when knuckle ends are worn down, or if it becomes too small to chew safely. Nylabone® Chews and Toys should not be boiled, placed in a dishwasher, washing machine, or convection or microwave oven.
Visit Nylabone Website to know more about Nylabone Dura Chew Power Chew Textured Medley Bone Chew Toy