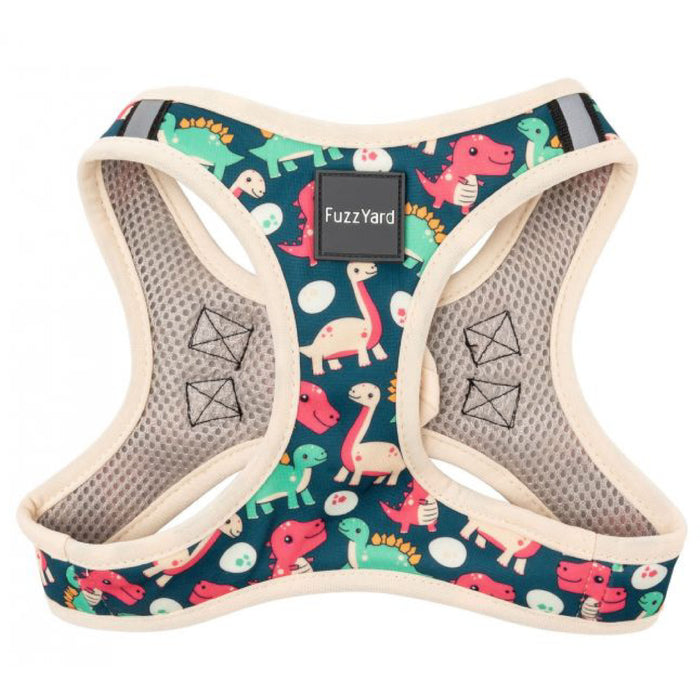 15% OFF: FuzzYard Dinosaur Land Dog Step-In Harness
Sold out
Original price
$34.50
-
Original price
$51.00
Available in 6 sizes - Extra Extra Small, Extra Small, Small, Medium, Large & Extra Large
Who said dinosaurs were extinct? This step in harness will have your furry friend looking like absolute dino-mite! A cute Jurassic design that will have your pooch rawring in excitement.
FuzzYard Step In dog harnesses are the best solution for dogs who don't like things being put over their head....or have a big head ;) .
They are lightweight, super-comfortable and best of all, easy to fit! Simply unclip the buckle, undo the velcro and let your dog 'step in' and you're good to go!


100% Polyester. Secure D-ring to attach your dogs lead.
Care Instructions: Wash with similar colours. Wash inside out. Do not soak. Do not iron.
**Size Tips**: Our Step In Harness has a different fit to our Regular Harness, Make sure to check out our size chart. Better to be safe than sorry ;)
| | | |
| --- | --- | --- |
| SIZE | A | B |
| XXS | 34 - 36 cm / 13.4 - 14.2 in | 39 - 41 cm / 15.4 - 16.1 in |
| XS | 40 - 42 cm / 15.7 - 16.5 in | 44 - 46 cm / 17.3 - 18.1 in |
| S | 43 - 45 cm / 16.7 - 17.7 in  | 48 - 50 cm / 18.9 - 19.7 in |
| M | 44 - 46 cm / 17.3 - 18.1 in | 52 - 54 cm / 20.5 - 21.3 in |
| L | 52 - 54 cm / 20.5 - 21.3 in | 58 - 60 cm / 22.8 - 23.6 in |
| XL | 61 - 63 cm / 24 - 24.8 in | 69 - 71 cm / 27.2 - 28 in |
Visit FuzzYard website to know more about  FuzzYard Dinosaur Land Dog Step-In Harness