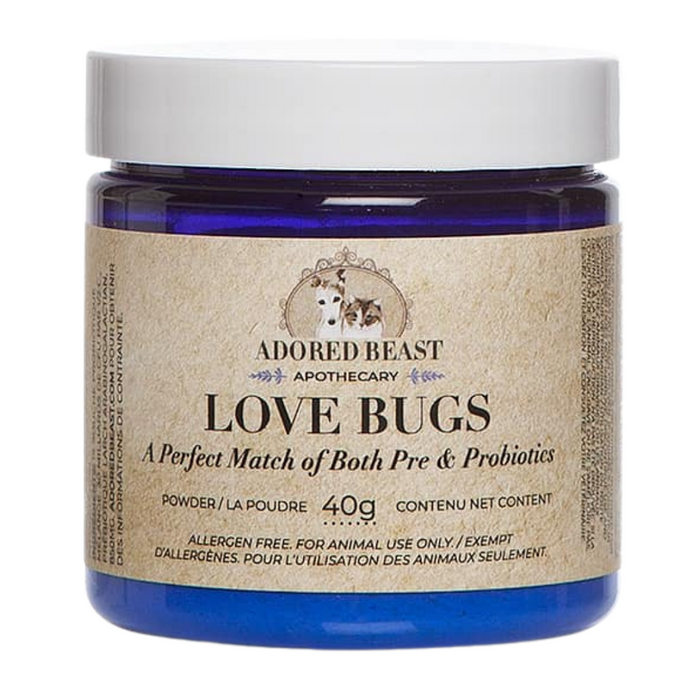 Adored Beast Love Bugs | Pre & Probiotics For Dogs & Cats
Original price
$52.00
-
Original price
$92.00
Available in 2 sizes - 40g & 80g 
Made In: Canada 
"We've been giving Love Bugs to our dogs for over a year and love the good things it provides!"
–Paula S, Love Bugs customer
"Friendly" bacteria act like the gut's defense system against "bad" or dangerous disease-causing bacteria. A gut that has a bountiful amount of this healthy friendly live bacteria enjoys wonderful health benefits.
Features:
100% natural
paraben free
gluten free
non-gmo
cruelty-free 
14 Strain Probiotic Blend, 30 Billion CPU Per 1/2 TSP
Prebiotic Larch Arabinogalactian (850 MG)

Probiotic Blend Species And Strains
Streptococcus Thermophilus MAK34S24T
Bifidobacterium Infantis MAK22B041
Bifidobacterium Longum MAK34B12L
Bifidobacterium Bifidum MAK53B66B
Bifidobacterium Breve MAK40B22B
Lactobacillus Lactis MAK16B42L
Lactobacillus Rhamnosus MAK79L08R
Lactobacillus Plantrum MAK45L23P
Lactobacillus Paracasei MAK92L81P
Lactobacillus Helveticus MAK18L62H
Lactobacillus Salivarius MAK90L10S
Lactobacillus Bulgaricus MAK55L88B
Lactobacillus Acidophilus MAK32L61A
Lactobacillus Casei MAK20L30C

Add to food once (1) per day according to your dog or cat's weight dosage.

ANIMAL
WEIGHT

DAILY
SERVING

1 – 29 LBS

1/4 TSP

30 – 59 LBS

1/2 TSP

60 – 89 LBS

3/4 TSP

90+ LBS


1 TSP
All Dogs and Cats: 1 drop for every 1 lb of body weight daily
CAUTION: Safe use in pregnant animals or animals intended for breeding has not been proven. If animal's condition worsens or does not improve, discontinue use and consult your veterinarian.

Note: 
 Safe use in pregnant animals or animals intended for breeding has not been proven.

If animal's condition worsens or does not improve, discontinue use and consult your veterinarian.

Refrigerate after opening
Visit Adored Beast website to know more about Adored Beast Love Bugs | Pre & Probiotics For Dogs & Cats