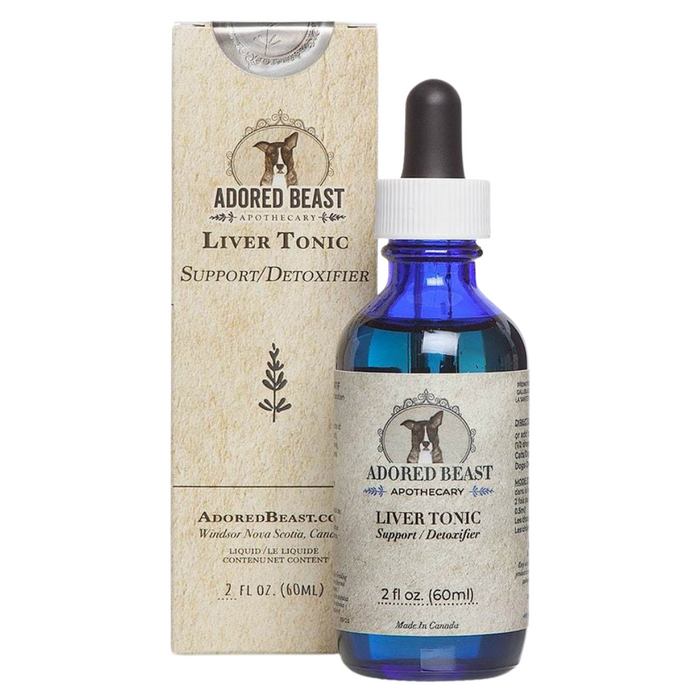 Adored Beast Liver Tonic | Support & Detoxifier For Dogs & Cats
Original price
$45.00
-
Original price
$45.00
Available in 1 size only - 60ml
Made In: Canada 
"I just adore this liver support and cleanse for my crew. This product will stay in our regular rotation."
–Becky G, Liver Tonic customer
Liver Tonic supports the health of the liver by helping regenerate healthy liver cells and boosting the organ's ability to filter toxins from the blood. It also helps support, detox, and repair liver, kidney, pancreas, and gallbladder function. Made with herbal ingredients such as dandelion root, milk thistle, and more.
Features:
certified organic
sustainably sourced 
paraben free
non-gmo 
gluten free
cruelty free 
Active Ingredients per 1ml
A proprietary blend containing extracts of:
Taraxacum Officinalis (Dandelion Root)
Chelidonium majus (Greater Celendine)
Cardus Marianus (Milk Thistle)
Berberis Vulgaris (Barberry)

Inactive Ingredients
Organic Vegetable Glycerine, Water

Can be given during or after mealtime. Administer twice per day according to your pet's weight. Refrigerate after opening.

Dogs
1 - 5 lbs

12 drops twice per day

Dogs

6 - 60 lbs

24 drops twice per day

Dogs

61+ lbs

48 drops twice per day

All
Cats


12 drops twice per day
Healthy Animals: Use consecutively for 30-60 days to support liver, gallbladder, kidney and pancreas health. Can be used 2-3 times per year to maintain organ function.
Chronic and Symptomatic Animals: Can be used for longer than 60 days for dogs with elevated liver enzymes or other chronic conditions. Consult your veterinarian.

In chronic cases where symptoms do not begin to improve within 10 days, it is best to consult your veterinarian.
Note: 
Do not use in cases of pregnancy. If animal's condition worsens or does not improve, discontinue use and consult your veterinarian.

Refrigerate after opening