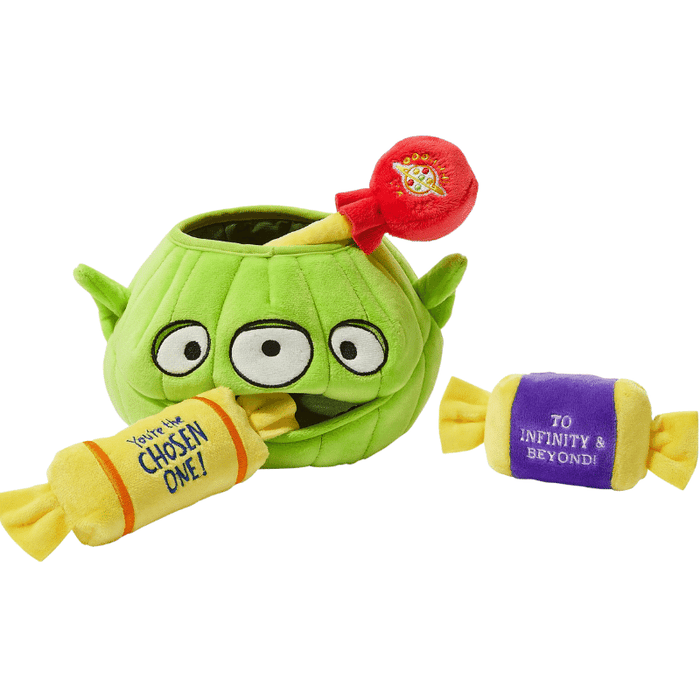 Shop The Paw Alien Jack-O-Lantern Burrow Dog Toy
Sold out
Original price
$42.00
-
Original price
$42.00
Much like The Claw from Disney and Pixar's Toy Story, your pup can pull goodies out of this hide-and-seek toy. It comes with a jack-o-lantern alien head and three candies stuffed inside for your dog to pull out. Each candy is stuffed with a squeaker so they're fun on their own, too. Simply hide the candies inside the alien head and watch as your dog sniffs them out. It's an extra-terrestrially exciting way to bust boredom and exercise your dog's mind while you're at it.

Key Benefits
Comes with an alien head base and three plush candies for your pup to burrow for.
Great for a stimulating game of hide-and-seek—just stuff the candies inside the alien and watch your pup sniff them out.
Each toy features a soft cover with plush stuffing and a squeaker inside to help your dog find them in their hiding place.
Provides lots of mental stimulation to keep your pup's mind active and keep doggie boredom at bay.
Precautions
This toy is not recommended for heavy chewers. No toy is indestructible. Supervise your pet when using since small parts can present a choking hazard or internal blockage. Discontinue use if the toy is damaged.
Recommended handwash with cold water, do not bleach