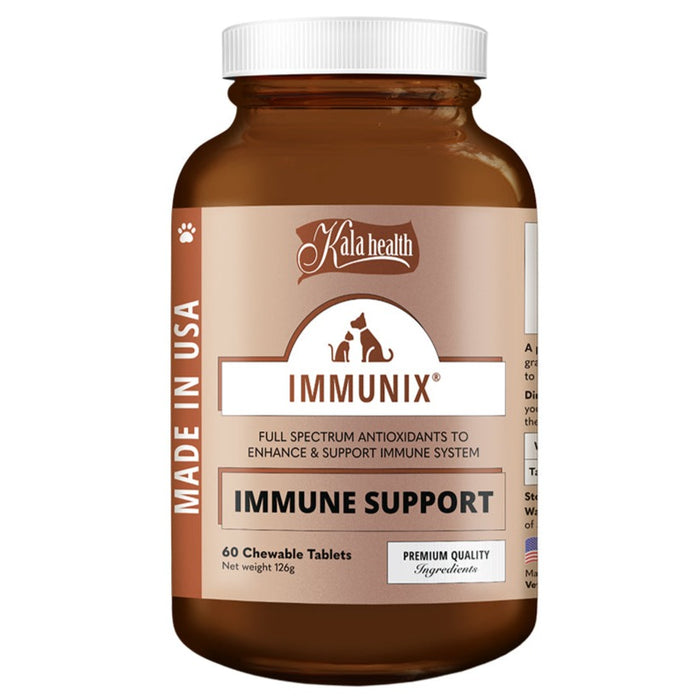 20% OFF: Kala Health Immunix Antioxidants Chewable Tablets For Dogs & Cats
Save

$35.20
Save

$11.00
Original price
$55.00
-
Original price
$176.00
Available in 2 sizes - 60cts & 240cts 
Breed Size: All Breeds
Life Stages: All Stages
Made In: United States
FORTRIX™ Chewable Tablets are a comprehensive natural antioxidant supplement that protects against free radical damage in the body.
Antioxidants work best in mixtures made up of smaller amounts from a variety of antioxidant groups, rather than using a high concentration of a single antioxidant. No single antioxidant protects against all conditions.
The components of the FORTRIX™ antioxidant system include 8 unique groups of natural antioxidants, such as Ester-C® , Coenzyme-Q10, Grape Seed Extract, and a variety of important antioxidant vitamins and minerals, that synergistically work together to provide maximum protection against free radical damage throughout the body.
The daily rigors of life, pollution, poor eating habits, and even the aging process, all contribute to oxidation, thereby creating excessive amounts of damaging free radicals. These bad by-products can then go on to damage the structure and function of other healthy cells and cell membranes within the body. An antioxidant's job is to inhibit the effects of oxidation and FORTRIX™ does this better than any other.
As with all Kala Health products only top shelf raw materials sourced from the USA are used.
Superoxide Dismutase 65mg, Grape Seed Extract 30mg, Co-enzyme Q10
1.25mg, Vitamin C 200mg, Vitamin E 100IU, Vitamin A 250IU
Crude Protein - 18%
Crude Fat - 15%
Crude Fibre - 1% Moisture - 8%
For best results, use daily throughout your pet's life. Give as treat or crumble and mix with food according to the following schedule:
Small Dogs or Cats: One half tablet daily
Mid-sized Dogs (20-50 lbs): One tablet daily
Large Dogs (up to 100 lbs): Two tablets daily
Giant Breeds: Three tablets daily
Safe use in pregnant animals or animals intended for breeding has not yet been proven. If animal's condition worsens or does not improve, stop product administration and consult your veterinarian. Do not use with anticoagulants.