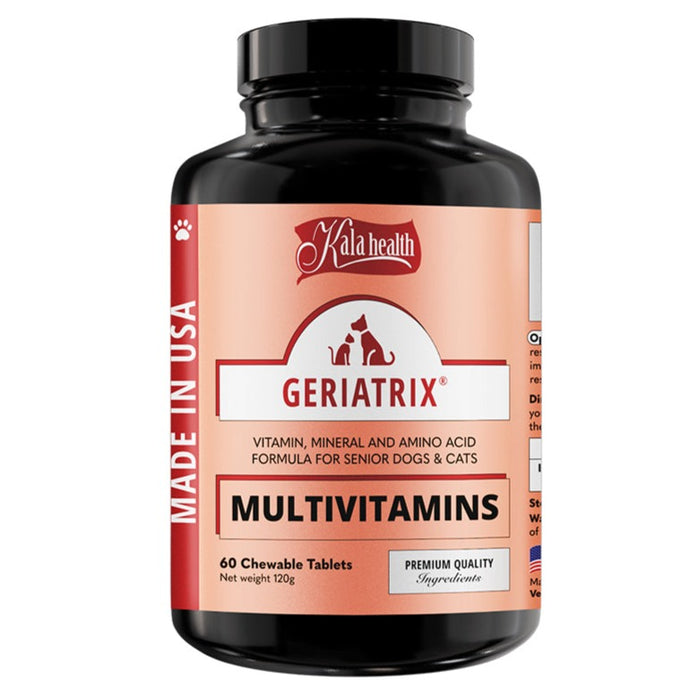 20% OFF: Kala Health Geriatrix Nutrition Chewable Tablets For Dogs & Cats
Save

$10.00
Save

$10.00
Original price
$50.00
-
Original price
$50.00
Available in 1 size only - 60cts
Breed Size: All Breeds
Life Stages: Senior
Special Diet: Multi-Vitamin
Made In: United States 
Geriatrix™ Chewable Tablets are a complete and natural multi-vitamin for senior pets. Each tasty chewable tablet contains 19 vitamins and minerals and 18 amino acids to promote a healthy immune system and help maintain overall wellbeing during their senior years.
In addition, this unique geriatric formula contains powerful antioxidants plus Ester-C, a superior form of Vitamin C that does not cause acidity problems. Bovine liver powder (from Argentina) is a natural source of amino acids.
As with all Kala Health products only top shelf raw materials sourced from the USA are used.
Protect against Free Radical Damage
An antioxidant's job is to inhibit the effects of oxidation. Oxidants, which include free radicals, are toxic byproducts of human cells as they produce energy to perform specific metabolic functions. Oxidants are neutralized or detoxified by naturally occurring antioxidant enzymes. The daily rigors of life, pollution, poor eating habits, and even the aging process, all contribute to oxidation, thereby creating excessive amounts of damaging free radicals. Free radical damage is caused when free radicals react with DNA, lipids and proteins. Free radicals can damage the structure and function of cells and cell membranes, which may result in inactivation of enzymes and other proteins, and the destruction of tissues and organs.
Antioxidants Slow Down the Aging Process
Several theories have been proposed to explain changes in cell functioning and physiological capability. The strongest and best established scientific theory is that free radicals account for many age-related changes. Antioxidants react with free radicals and render them harmless. Their use is the surest way to slow down the aging process.  
Alanine, Arginine, Aspartic Acid, Asparagine, Glutamic Acid, Glycine, Histidine, Isoleucine, Leucine, Lysine, Methionine, Phenylalanine, Serine, Threonine, Tryptophan, Tyrosine, Valine, Taurine
Crude Protein - 15%
Crude Fat - 5%
Crude Fibre - 1% Moisture - 9%
Dogs: Feed 1 tablet per day for each 20 lbs of body weight thereafter.
Toy breeds: Feed 1 tablet per day.
Cats: Feed 1 tablet per day.
Feed double dosage the first day. Administer free choice prior to feeding or crumble and mix with food. Each tablet is formulated in our proprietary flavor that animals love.