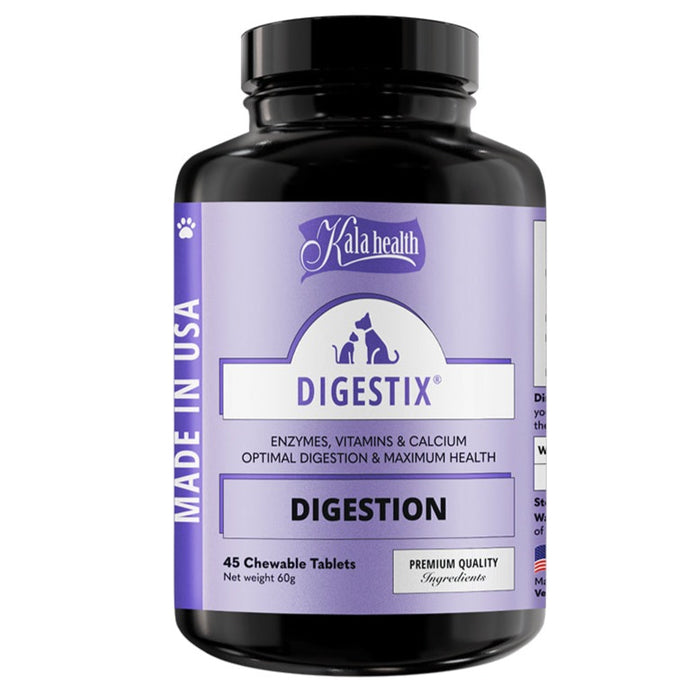 20% OFF: Kala Health Digestix Digestive Enzymes Chewable Tablets For Dogs & Cats
Sold out
Original price
$40.00
-
Original price
$40.00
Available in 1 size only - 45cts
Breed Size: All Breeds
Life Stages: All Stages
Special Diet: Digestive Care
Made In: United States
DIGESTIX® for Dogs and Cats is a blend of the three major groups of enzymes designed to enhance the digestion of high protein / low carb diets. It helps the breakdown of protein, fat and carbohydrate in conjunction with the body's own enzymes. It contains a wide range of proteases, lipase and amylase from fungal sources designed to be active throughout the gastrointestinal tract. While less expensive supplemental enzymes from animal sources generally do not survive the acidic conditions of the stomach, fungal microbial enzymes are especially resistant to stomach acid. The digestive enzyme supplements used in Digestix® have proven efficacy throughout the GI tract. The enzyme activity of each of the components is determined and reported according to standard Food Chemical Codex procedures recognized by the FDA. 
Background Information about Enzymes
Enzymes are specialized proteins that play a key role in mediating and speeding specific biochemical reactions in the body. Digestive enzymes are usually grouped into three distinct classes, depending on the major food groups they help break down: proteases (breakdown of proteins), lipases (breakdown of fats) and carbohydrases (breakdown of carbohydrates). Each enzyme is specific to the action it performs—enzymes do not do general work. Some enzymes are rapidly broken down in the acidic environment of the stomach, while others are active in the small intestines where 90% of nutrients present in the food are absorbed. 
 Digestive enzymes are essential for the effective breakdown of food into nutrients that can then be assimilated. Enzymatic breakdown is a multi-stage process that starts when food contacts saliva, continues in the stomach and is completed in the small intestine where specialized enzymes further split apart the mass of food and digestive fluids into the molecular structures of the various nutrients so they may be absorbed into the circulatory systems. 
Enzymes are produced in various parts along the digestive tract. With increasing age, enzyme production slows down, and digestion becomes less effective. Use of supplemental digestive enzymes therefore makes increasing sense as our companion animals get older. When taken together with food, supplemental digestive enzymes are completely dedicated to the digestive process, while the same enzymes taken on an empty stomach are partially absorbed intact into the bloodstream where they appear to help restore and maintain healthy blood and tissue functions, and can have a beneficial effect on immune and inflammatory processes.
Digestix® Formula
Digestix® is a premium blend of digestive enzymes designed to optimize the digestion of typical canine and feline diets. It is contained in a tasty chewable tablet, making it very easy to offer companion animals. Digestix® is composed of enzymes and the Vitamin B Complex, carefully selected for their specificity and functionality. 
Maltodextrin, Calcium Carbonate, Natural flavourings, Stearic Acid, Silicon dioxide
Crude Protein - 18%
Crude Fat - 3%
Crude Fibre - 1% Moisture - 13%
For best results, use daily. Administer as a treat or snack prior to feeding. May also be crumbled and mixed with pet food.
Small dogs & cats (5-20 lbs) ½ tablet daily
Mid-size dogs (21-50 lbs) 1 tablet daily
Large dogs (51-80 lbs) 2 tablets daily
Very large dogs (81-110 lbs) 3 tablets daily
Giant breed dogs (over 110 lbs) 4-5 tablets daily
Visit Kala Health Website to know more aboutKala Health Digestix Digestive Enzymes Chewable Tablets