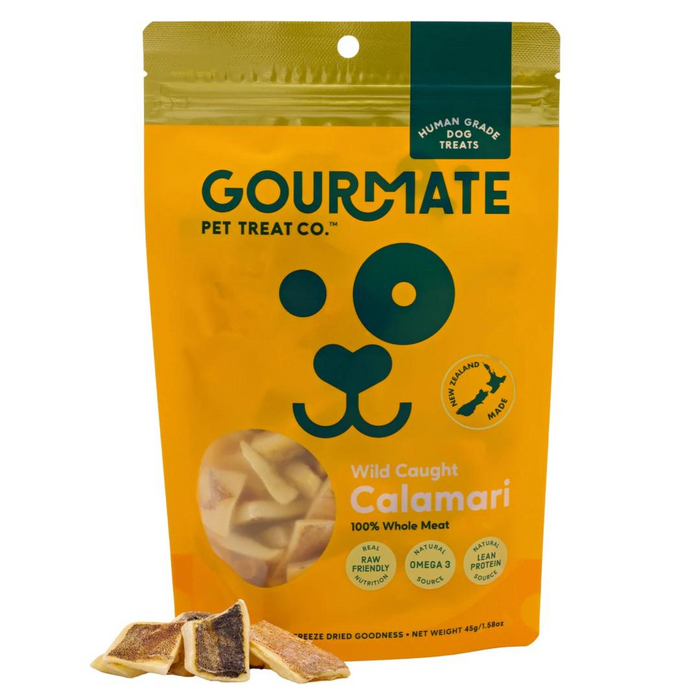 Gourmate Pet Treat Co. Wild Caught Calamari Treats For Dogs
Original price
$19.90
-
Original price
$19.90
Available in 1 size - 45g
Protein/Flavor:
Seafood 
Special Diet:
Single Ingredient, Gluten Free & Grain Free 
Made In:
New Zealand 
Get inkredible recall - our restaurant quality Wild Caught Calamari is a low-fat and high protein dog treat that will have your dog literally drooling at your feet! 
The original Calamari dog treat - available only from Gourmate and loved by good dogs around the world. 
A nutritious seafood treat high in omega-3 fatty acids with vitamins and minerals to support skin and joint health, brain function and more

Benefits: 
Gourmate uses high tech freeze drying to lock in the flavour, texture, and natural goodness of 100% New Zealand squid

Contains zinc for immunity, potassium for healthy hearts, vitamin B12 for nervous system and brain function, and copper for iron absorption
80% protein and only 8% fat

Human food grade ingredients and processing for best quality
No additives or preservatives
Gluten free, dairy free, and grain free dog treats
Proudly New Zealand sourced, made, and owned
Pet treats are intended for supplement feeding only. We recommend 3-6 Calamari pieces per day as a treat or meal addition.
Freeze-drying 

removes the moisture from raw food to preserve it

. If you are including Gourmate Calamari as part of a BARF or raw diet,

 

please remember that our treats weigh approximately 75% less than their fresh equivalent
Not for human consumption. Sorry