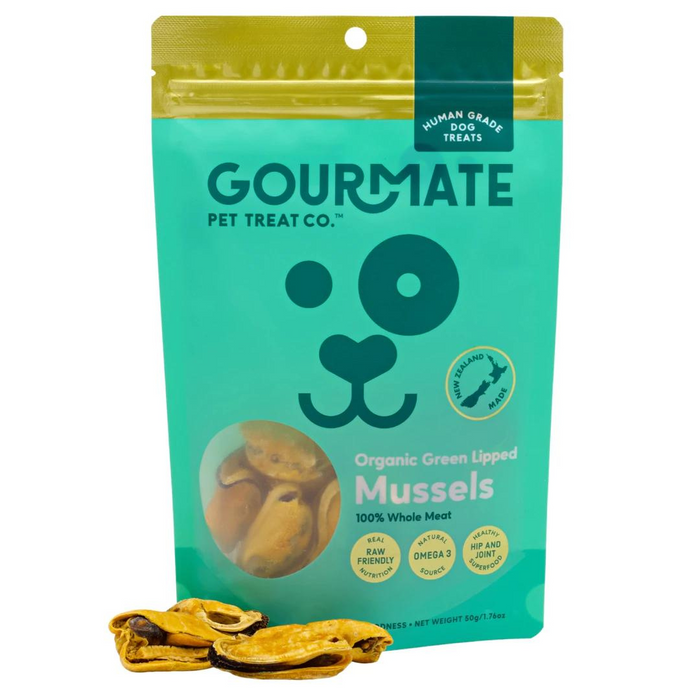 Gourmate Pet Treat Co. Organic Green Lipped Mussels Treats For Dogs
Original price
$19.90
-
Original price
$19.90
Available in 1 size - 50g
Protein/Flavor:
Seafood 
Special Diet:
Single Ingredient, Gluten Free & Grain Free 
Made In:
New Zealand 

Get your dog jumping for joy again! Gourmate's Organic Green Lipped Mussels are a delicious and sustainable snack packed with superfood goodness.
New Zealand's Green Lipped Mussel has the natural trifecta of omega-3s, chondroitin, and glucosamine to support joint health and other inflammation-related concerns. 
We take the very best organic mussels from the cold, clean waters of Stewart Island and snap freeze-dry them for maximum bioavailability. 
Benefits:
Gourmate Pet Treat Co. Green Lipped Mussels are a natural source of omega-3 fatty acids, amino acids, vitamins and minerals for your dog's eyes, coat, cardiovascular health and immunity

Known as a superfood for joint health, research has shown that New Zealand's Green Lipped Mussels can lessen joint pain and reduce inflammation without nasty side effects

Humans also take Green Lipped Mussel extract to improve other ailments that involve inflammation such as arthritis, asthma, psoriasis and bowel conditions
Sustainability & Environment
Proudly New Zealand sourced, made, and owned
As filter feeders Green Lipped Mussels need only seawater to grow and therefore are a highly sustainable animal protein
Gourmate Pet Treat Co.'s mussels are sourced from a certified organic farm
100% organic Green Lipped Mussel meat (Perna canaliculus)
Sourced, prepared, freeze-dried and packaged to human food grade standards
Gourmate Pet Treat Co. mussels are processed with care to ensure their efficacy. No oils removed before freeze-drying and no cooking or heat drying

No additives or preservatives

Gluten free, dairy free, and grain free dog treats (it's just Mussels)
Pet treats are intended for supplement feeding only. We recommend 1-2 mussels per day

Freeze-drying 

removes the moisture from raw food to preserve it without cooking

. Freeze-dried mussels may be included as part of a BARF or raw diet