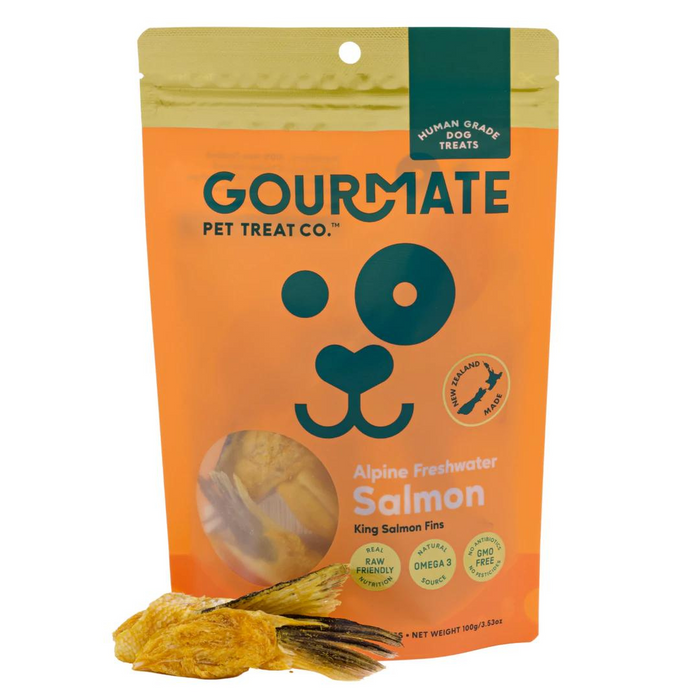 Gourmate Pet Treat Co. Alpine Freshwater Salmon Treats For Dogs
Original price
$19.90
-
Original price
$19.90
Available in 1 size - 65g
Protein/Flavor:
 Beef
Special Diet:
Single Ingredient, Gluten Free & Grain Free 
Made In:
New Zealand 
Gourmate's restaurant quality, free range and Grass Fed Beef Liver is a chunky and meaty boost that's tail-waggingly good and good for them!
Our Grass Fed Beef Liver packs a punch of protein, iron, vitamins and minerals - all snap freeze dried to lock in the nutrition. 
What makes our liver different? The freeze drying doesn't just make it healthier - it also creates a chunky treat with maximum texture, smell and taste. 
Ditch the twenty-ingredient jerky treats without ditching your dogs' love. 
Benefits:
Naturally high in lean protein, vitamin A, essential B vitamins and iron


Beef Liver supports muscle growth, skin and coat health, the nervous system, immunity, hormone regulation and good thyroid function
Human food grade ingredients and processing for best quality
No additives or preservatives
Gluten free, dairy free, and grain free dog treats 
Proudly New Zealand sourced, made, and owned
Sustainability & Environment
Proudly New Zealand sourced, made, and owned
Our Hoki that is Marine Stewardship Council certified for sustainability
100% Angus Beef Liver - that's all
Pet treats are intended for supplemental feeding only. We recommend 1 - 3 Liver pieces per day. Liver can be cut up or broken for training 

Freeze-drying removes the moisture from raw food to preserve it. If you are including Gourmate Grass Fed Beef Liver as part of a BARF or raw fed diet please remember that our treats weigh approximately 75% less than their fresh equivalent
Not intended for human consumption. Sorry