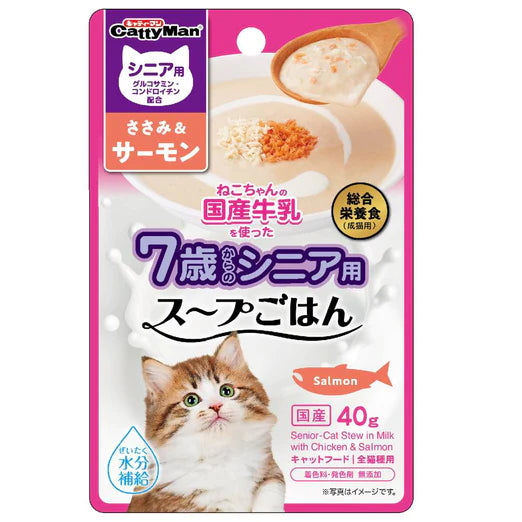 20% OFF: CattyMan Chicken & Salmon Stew In Milk For Senior Cats
Save

$0.80
Save

$0.80
Original price
$3.90
-
Original price
$3.90
Available in 1 size - 40g
Life Stages: Kitten
Protein/Flavor: Chicken & Fish
Made In: Japan
Yummy senior cat stew - a combination of lactose-free Japanese milk for senior cats, chicken, and tuna. Highly nutritious and provides essential vitamins and minerals.
It contains added Taurine, which plays an important role in a cat's heart health, digestion, vision, and a healthy immune system as well as Glucosamine and Chondroitin to provide joint support for aging cats.
Free of synthetic coloring and colorants.
Chicken (chicken meat, liver), milk (Japanese milk for seniors), salmon, fats, oils, seasonings, fish cartilage extract (containing chondroitin), minerals (calcium, phosphorus, potassium, sodium, chlorine, magnesium, iron, copper, manganese, zinc, iodine Selenium), polysaccharide thickener, phosphate (Na), taurine (extract), vitamins (A, B1, B2, B B6, B12, C, D, E, pantothenic acid, niacin, folic acid, choline), glucosamine.

Visit CattyMan Website to know more about CattyMan Chicken & Salmon Stew In Milk For Senior Cats