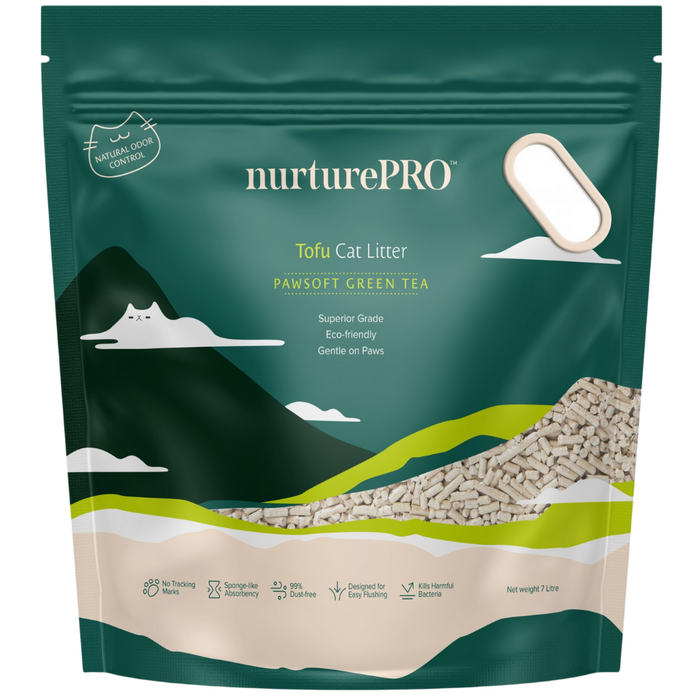 20% OFF: Nurture Pro Pawsoft Green Tea Tofu Cat Litter
Save

$3.15
Save

$3.15
Original price
$15.80
-
Original price
$15.80
Available in 1 size only - 7 Litres 
Superior Grade with Sponge-like Absorbency
Superior-grade, 100% biodegradable tofu cat litter in a natural aroma that leaves your home smelling of botanical freshness all day, every day. This eco-friendly product is 99% dust free, leaves no tracking marks and is gentle on your kitty's paws.
When it comes to cat litter, pet parents around the globe seek for the same qualities that fulfils their cats' and their own needs. nurturepro™ Tofu Cat Litter is primarily made up of natural tofu and 100% biodegradable and flushable materials. With superb odor control, the scent of natural tofu will leave cats and homes smelling fresh all day, every day. Since our nurturepro™ Tofu Cat Litter contains no synthetic additives, silica dust, artificial chemicals, fragrances and perfumes, pet parents can rest assured that their felines and themselves will be free of dusty homes and respiratory problems.
The Toufu Cat Litter Advantages:
Spong-Like Absorbency:

 

With a high level of absorbency, less refills are required.
Kills Harmful Bacteria: 

 

Minimizes the fish of infections and diseases caused by a dirty litterbox.

Dust No More: Cats and their owners with breathing difficulties benefit greatly from a dust-free cat litter.
Mother Nature Approved: Flush the litter down the toilet bowl without having to use a plastic bag to dispose it.
No Tracking Marks: Keeps your home spotlessly clean as the cats won't track their mess everywhere.
Excellent Clumping Power: Locks in the moisture into hard lumps that are easy to scoop.
Tofu, Green Tea Powder, Corn Starch