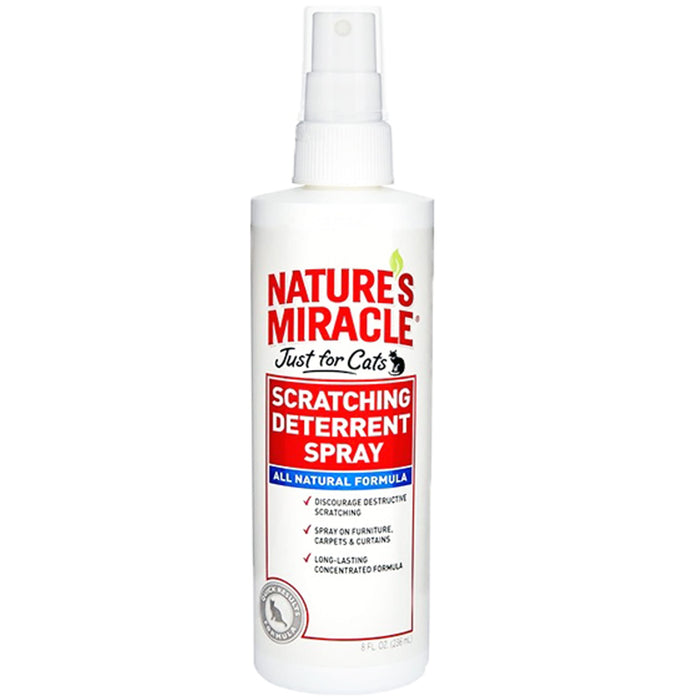 20% OFF: Nature's Miracle Just for Cats Scratching Deterrent Spray
Save

$3.05
Save

$3.05
Original price
$15.20
-
Original price
$15.20
Available in 1 size only - 8oz
Made In: United States 
Scratching is an instinctual cat behavior. Cat's paws have glands that leave a scent behind when they scratch, making this another way cats mark their territory. Nature's Miracle Scratching Deterrent Spray counters this scent and discourages repeat destructive scratching behavior. Safe to use a round pets and home, when used as directed. 

Discourage destructive scratching
Spray on furniture, carpets & curtains
Long-lasting concentrated formula
ACTIVE INGREDIENTS:
Sodium Lauryl Sulfate (SLS)……………….0.30%
Cinnamon Oil……………………………………0.12%
Lemongrass Oil……………………………….0.12%
Rosemary Oil…………………………………..0.12%
INERT INGREDIENTS
(Water, Sodium Benzoate)….............99.34%
Total.............................................100.00%
Shake well before using.
Apply Nature's Miracle Scratching Deterrent Spray to area or object where cat frequently scratches.
Repeat as needed. Keep cat's nails trimmed and provide a scratching post, providing cat an alternative scratching location.