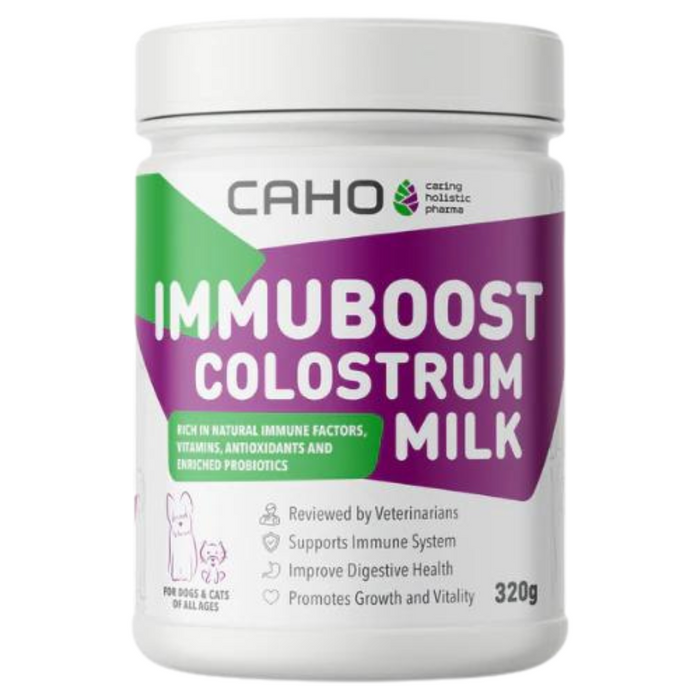 10% OFF: CAHO Immuboost Colostrum Milk For Dogs & Cats
Save

$4.40
Save

$4.40
Original price
$48.30
-
Original price
$48.30
Available in 1 size only - 280g 
Made In: Finland 
CAHO  ImmuBoost Colostrum milk is derived from cow colostrum ('First Milk') which is naturally rich in immunoglobulins, vitamins, antioxidants, minerals, proteins, carbohydrates and digestive enzymes. ImmuBoost is formulated as an ideal meal supplement for dogs to promote growth, supports the immune system and improve digestive health.

ImmuBoost Colostrum Milk contains immune-active proteins such as lactoferrins, lactoperoxidase and lysozyme which have direct antimicrobial properties to prevent gut pathogen growth.

The first colostrum milk powder for dogs & cats. High in active immunoglobulins (IgG, IgM, IgA & IgY) & IBR (Infectious Bovine Rhinotraceitis) free; it enhances immunity, reduce virus infection and improve overall health in various stages of your pet's life. ImmuBoost also contains enriched probiotics (1 x 109 KBE Enterococcus faecium, 1.28 x 109 KBE Bacillus Licheniformis) that optimally supports the intestinal health of your pet.
Benefits:
Provides major benefits to underweight or undernourished dogs and cats 
Can be used as a food supplement to restore vitality and mobility of your dog or cat
Provide a boost to a nutritionally depleted immune system
Colostrum milk, whey powder, full cream milk powder, plant oils, wheat starch, probiotics (Enterococcus faecium, Bacillus Licheniformis). 

This product is made from non-GMO raw ingredients. Bovine colostrum, whey powder, full cream milk powder: from sustainable dairy farms in Germany. Plant oils: Palm oil from RSPO-certified sustainable sources.

Suitable for dogs and cats of all ages. Sprinkle directly onto food based on chart below OR Dissolve 1 part powder : 5-10 parts warm water (~40°C).
Body Weight of Dogs
Below 5kg: 1 tbsp (10g) of powder and 50-100ml water
5.1-10kg: 2 tbsp of powder and 100-200 ml water
10.1-15kg: 3 tbsp of powder and 150-300ml water
15.1kg-20kg: 4 tbsp of powder and 200-400 ml water
>20kg: 5 tbsp of powder and 250-500 ml water

Body Weight of Cats

All weight: 1 tbsp (10g) of powder and 50-100ml water
Visit CAHO website to know more about CAHO Nucleotide Canine Cell Renewal & Gut Health Supplements For Dogs